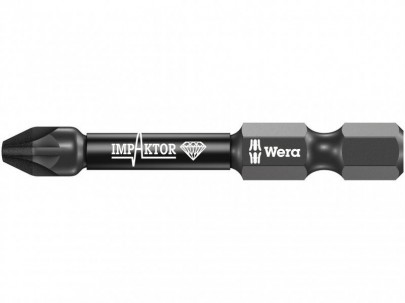 Product Description:
Wera PZ2 50mm Pozi Impaktor Screwdriver Bit from Cookson Hardware.
Product Reference: 073961

Wera Impaktor 855/4 Pozi bits 50mm long with 1/4in hexagon drive , suitable for use with DIN 3126-F 6.3, ISO 1173 bit holders. The Impaktor technology ensures an above-average service life even under extreme conditions thanks to a best-possible utilisation of the material properties and optimally designed geometry, particularly suitable for use with conventional impact drivers, the rough diamond coating reduces the danger of any slipping out of the screw head due to the enhanced frictional resistance.
Type:
Pozi 2 point x 50mm
Similar products can be found in these categories:
Tools
Screwdriver Bits & Adaptors
Screwdriver Bits
Power Tools & Accessories
Driver Bits & Adaptors
Impact Bits & Adaptors
All Wera Screwdriver Bits and Tools Products