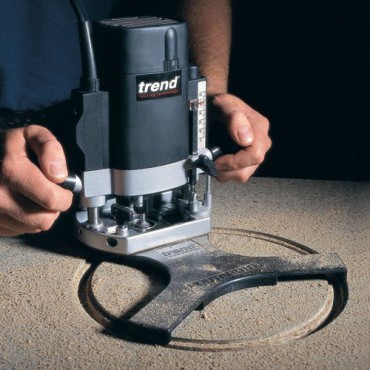 Product Description:
The Trend Routabout Jig
Product Reference RBT/2

Access to pipes & cables beneath chipboard floors in seconds. For builders, plumbers & electricians.
A 250mm diameter opening can be cut and made good in seconds. Designed for use in new or existing 18mm chipboard or similar floors.
Cuts only the thickness of the board.
No waste, the piece cut out is used to make good the floor.
All you need is a plunge router (750 watts or above). A Unibase may be required for certain makes and models of router.

Please refer to UK Building Regulations Approved Document B and any amendments before using this accessory.
Dimensions:
Shank Diameter=1/2 inch
Floor thickness=18 mm
Access hole diameter=250 mm
Cut Length Metric: 18
How to Guide to the Trend Routabout Jig.
Similar products can be found in these categories:
Trend Woodworking Tools
Trend Router Jigs
Trend Routabout
Power Tools & Accessories
Router Jigs & Tables
Routabout Jig
All Trend Routing & Woodworking Products