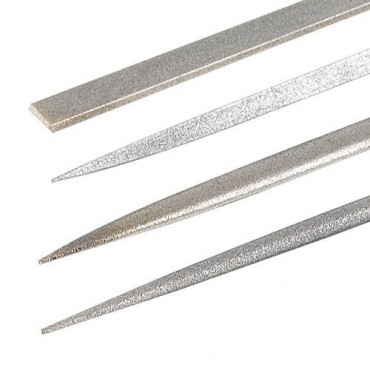 Product Description:
Trend Diamond Needle File 4 Piece Set.
Product Reference: DWS/NFPK/F
Complete set of four needle files incorporating a variation of shapes and profiles for sharpening all awkward tooling including hand saws. Can be used to file and shape glass, ceramics, metal, carbide and wood. Precision quality needle files as used in the British aerospace Industry.
Fine 600 grit (25 micron)
Guaranteed for five years.
Suitable for carving tools, model engineering, small tools and removing welds. Use to file metals and plastics. Also widely used in Jewellery making industry.
Pack comprises of 4 needle files, Tapered / round, tapered half flat / round, flat , triangular / tapered.
Dimensions:
Size=160 mm overall with 75 mm diamond length
Grade=Fine
Grit=600 grit (nom. 25 micron)
Similar products can be found in these categories:
Trend Woodworking Tools
Trend Diamond Sharpening
Trend Professional Diamond Stones
Power Tools & Accessories
Sharpening & Honing Tools
Diamond Sharpening & Honing Tools
All Trend Routing & Woodworking Products