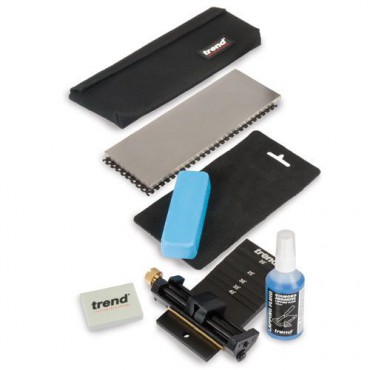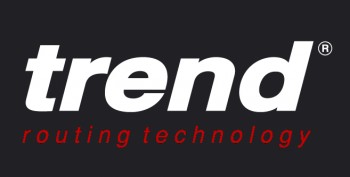 Product Description:
Trend Diamond Honing & Polishing Kit.
Product Reference: DWS/Kit/B
The Trend Diamond Whetstone Honing & Polishing Kit includes:-
A 8 inch x 3 inch fine bench stone.Ideal for flattening chisels and plane blades as well as achieving a shaving edge in seconds. Precision flatness gives the ability to also sharpen spindle knives in house. The fine grit is suitable for a finish suitable for carving tools.
Complete with fabric tool holder, cleaning block and non slip mat.
Lapping Fluid, suitable for use with all quality diamond abrasive products. Use instead of water to reduce the threat of rusting by 95%. Reduces possibility of clogging and improves diamond performance.
Honing Guide, ensures correct angle is maintained on chisels and plane irons when used with diamond whetstone. Precision roller with alloy body which self-centre clamps chisels from 3/8 inch (10mm) to 1-1/4 (32mm) and plane irons up to 2-3/8 inch (60.3mm) wide. Maximum tool thickness 7mm. The setting device is preset for 25 degree, 30 degree, 35 degree and 40 degree angles. Positive location for roller and blade and adjustable stop for setting blade angle.Use with 63mm (2 1/2 inch) wide x 178mm (7 inch) long bench stones or workshop stones. Not for use with Firmer chisels or short blade (Butt) chisels.
Honing paste and leather strop to hone chisels and planer irons. 100 gm honing paste polishing compound.Used to polish sharpened cutting edges to give a highly polished, sharp cutting edge.
Dimensions:
Grade=Fine & Coarse
Grit=1000 & 300 (nom. 15 & 50 micron)
Bar weight=100 gm
Bar size=100 x 35 x 18 mm
Chisel blade width min.=10 mm
Chisel blade width max.=32 mm
Chisel blade thickness max.=7 mm
Chisel blade length min.75 mm*
Plane blade width max.=60.3 mm
Angle=25 deg, 30 deg, 35 deg & 40 deg
Size (lapping fluid)=60ml
Hazard type (lapping fluid) =Harmful (Xn)
*at 25 deg
Similar products can be found in these categories:
Trend Woodworking Tools
Trend Diamond Sharpening
Trend Professional Diamond Stones
Power Tools & Accessories
Sharpening & Honing Tools
Diamond Sharpening & Honing Tools
All Trend Routing & Woodworking Products