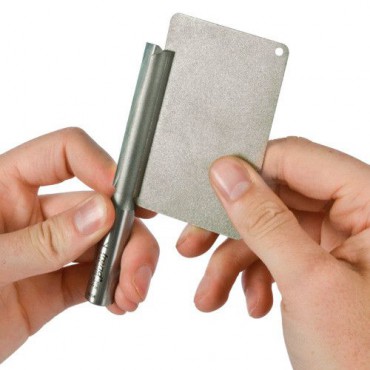 Product Description:
Trend Craftpro Diamond Credit Card Sharpening Stone Fine & Coarse from Cookson Hardware.
Product Reference: CR/DWS/CC/FC
A double sided credit card size diamond sharpening stone with excellent sharpening performance. Ideal for fluted, shaped & small router bits, carbide or HSS, turning tools, chisels, plane blades, carving tools & all general tooling.
A double sided credit card size diamond stone.
Monocrystalline diamonds for fast, clean, stock removal.
Excellent sharpening performance.
Double sided for coarse sharpening and fine honing.
Coarse 360 grit (nom. 40 microns) and fine 600 grit (nom. 25 microns).
Recommended use with Trend lapping fluid to prevent clogging or rusting and assist in keeping tools clean.
Dimensions:
Size=82 mm x 50 mm x 0.8 mm
Grade=Fine & Coarse
Grit=600 & 360 (nom. 25 & 40 micron
Similar products can be found in these categories:
Trend Woodworking Tools
Trend Diamond Sharpening
Trend CraftPro Diamond Stones
Trend Woodworking Tools
Trend Diamond Sharpening
Trend Professional Diamond Stones
Power Tools & Accessories
Sharpening & Honing Tools
Diamond Sharpening & Honing Tools
All Trend Routing & Woodworking Products