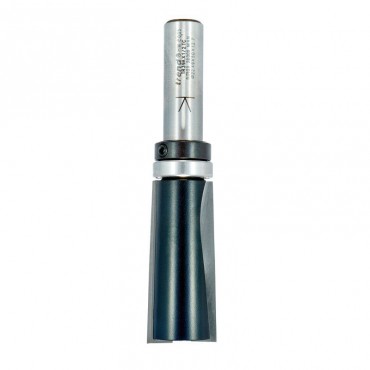 Product Description:
Trend 50mm Trade TCT Shank Mounted Bearing Guided Door Leading Edge Router Cutter from Cookson Hardware.
Product Reference: TR39AX1/2TC
The Trend Trade range of router cutters are PTFE non-stick coated TCT tooling designed for the tradesman. This Trend shank mounted bearing guided door leading edge router cutter has a 2o undercut for routing a leading edge on doors to allow an extra tight fit against the jamb.
Features:
PTFE non-stick coating to minimise resin and heat build up especially for softwood longer life

Extra long shanks

Specially chosen range of tools aimed at the particular needs of the tradesman

Etched dimensions on the shank for quick identification

Practical plastic tube storage cases to provide excellent protection
TCT Router Cutter Grade:
These router cutters have Tungsten Carbide Tips brazed onto a steel body and are designed to cut the most abrasive materials. With careful handling, they will outlast HSS grade cutters by many times under normal conditions. Small sized router cutters have a Solid Carbide insert.

Dimensions:
Cut - 50mm
Bearing Diameter - 19.0mm
Degrees - 2o
Shank Diameter - 1/2"
Similar products can be found in these categories:
Trend Woodworking Tools
Trend Router Bits Trade TCT
Trend Router Bits Trade TCT Door Leading Edge
Power Tools & Accessories
Router Bits
Door Leading Edge Router Bits
All Trend Routing & Woodworking Products