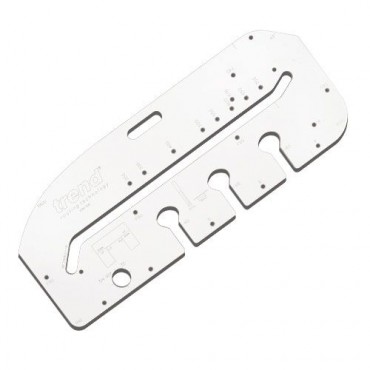 Product Description:
Trend KWJ700 Worktop Jig
Product Reference: KWJ700

Trade worktop jig for up to 700mm worktops.
Hard wearing solid laminate 12mm thick jig that cuts both parts of the joint in 15 minutes including setting up.
Left hand and right hand corners, 400mm radius peninsular joint, 45 degree end cut with slight radius, 45 degree trade corner solution for hob units, 100mm radius corner, 40mm radius corner, 35mm kitchen door hole and 3/4inch BSP hole for mixer taps.
Fixed lengths for 250mm, 300mm, 400mm, 500mm, 550mm, 600mm, 616mm, 650mm and 700mm wide worktops.
Cuts up to 40mm thick worktops with or without anti-drip post formed edge.
Three open-ended bolt recesses (dog bone style) for 150mm bolts.
Engraved lines for short 65mm bolts and worktop cross-cut.
10mm diameter plastic pins with tapered shoulder for tight fit provides three point pin contact to ensure ease of setting up.
Engraved markings for identification of pin holes.
Pins made from ABS plastic for strength.
Jig requires:
A portable plunge router with 12.7mm (1/2 inch) shank capacity and minimum 1300 watts.
A template guide bush with 30mm outside diameter.
A TCT router cutter with 12.7mm (1/2 inch) diameter and 50mm (2 inch) cut length.
Two clamps.
Comes with:
Dimensions:
Length=985 mm
Width=390 mm
Thickness=12 mm
Weight=5.4 kg
End Cut=45 degrees
Corner Radius=40 mm
Corner Radius=100 mm
Corner Radius=400 mm
Corner Mitre Joint=45 degrees
Female cut material width loss=35 mm

How to use the Trend Worktop Jig.
Similar products can be found in these categories:
Trend Woodworking Tools
Trend Router Jigs
Trend Kitchen Worktop Jigs
Power Tools & Accessories
Router Jigs & Tables
Kitchen Worktop Jigs
All Trend Routing & Woodworking Products
Accessories: