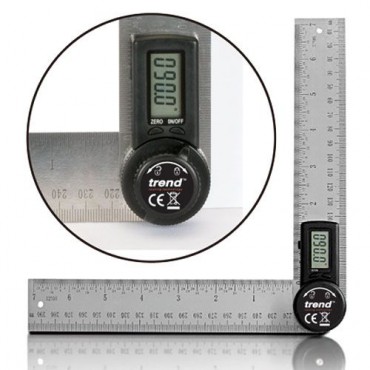 Product Description:
Trend 7" Digital Angle Rule
Product Reference: DAR/200

The Trend 7" digital angle rule calculates angles quickly and accurately and is ideal for woodworking, construction, and machining.

Features:
Digital display for angles.
Stainless steel rule with metric/imperial scale, scale length 200mm and 7 inch.
Measuring range from 000.0deg to 360.0deg, with accuracy of 0.3deg.
Rule locking function.
Easy operation with two press buttons.
Auto-shut off in 6 minutes.
Dimensions:
Measuring range = 000.0deg to 360.0deg
Resolution = 0.1deg
Accuracy = 0.3deg
Weight = 162g
How to use the Trend Digital Angle Rule.
Similar products can be found in these categories:
Trend Woodworking Tools
Trend Measuring and Marking
Trend Digital Angle Rules
All Trend Routing & Woodworking Products