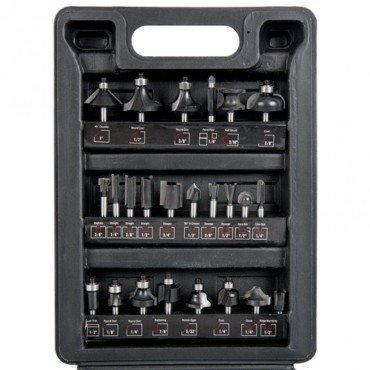 Product Description:
Trend 24 Piece 1/4 inch Shank Router Cutter Starter Set from Cookson Hardware.
Product Reference: SET/SS24X1/4TC

This twenty four piece cutter set contains a range of popular Tungsten Carbide Tipped cutters for a variety of applications.
1/4-inch shank diameter.
For softwood, hardwood, chipboard, plywood and MDF.
Excellent value for money.
Supplied in plastic carry case.
Comes with:
1 x Straight 6.3mm x 19mm cutter
1 x Straight 9.5mm x 25mm cutter
1 x Straight 12.7mm x 25mm cutter
1 x Straight 19mm x 19mm cutter
1 x Keyhole 9.5mm diameter cutter
1 x Pierce and trim 6.3mm x 18mm cutter
1 x 45 Degree v groove x 12.7mm cutter
2 x Dovetail 9.5mm & 12.7mm cutter
2 x Cove R3.2mm & R6.35mm cutter
1 x Guided trimmer 12.7mm x 12.7mm cutter
1 x Guided 45 degree chamfer 32mm diameter cutter
4 x Guided round over R3.2mm, R6.3mm, R9.5mm and R12.7mm cutter
1 x Staff bead R4.8mm cutter
2 x Guided cove R6.3mm and R9.5mm cutter
1 x Guided rebate 6.3mm rebate x 12.7mm cutter
1 x Hinge recess straight 12.7mm diameter x 12.7mm cutter
1 x Ovolo panel 25.4mm diameter cutter
1 x Guided R4mm roman ogee cutter
Dimensions:
Shank Diameter=1/4 inch

Similar products can be found in these categories:
Trend Woodworking Tools
Trend Router Bit Sets
Trend Router Bit Starter Sets
Power Tools & Accessories
Router Bits
Router Bit Sets
All Trend Routing & Woodworking Products