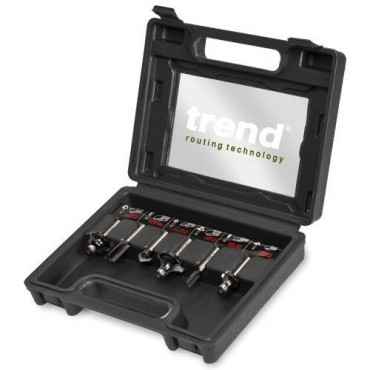 Product Description:
Trend Router Cutter Set 6 Piece.
Product Reference: SET/SS11X1/4TC
Trend 6 piece router cutter set - 1/4in shank. Excellent value for money, offering a range of the most popular cutters for decorative and constructional woodworking. The set contains three non-bearing cutters comprising 2 straight cutters, 6.3mm and 12.7mm diameter a 45¡ 'V' groove and three bearing guided cutters; 2 roundover cutters in 6.35mm and 9.5mm radii and a 4mm radius Roman ogee.
Solid carbide brazed cutting tips ensure excellent performance and durability in abrasive materials including ply and MDF as well as being perfect for hard and softwoods.
1/4in shank ideal for smaller routers and an excellent way to experiment and learn routing techniques without expensive outlay.
Supplied in a durable plastic storage case with identification indicators for quick profile recognition and selection
Dimensions:
Shank Diameter=1/4
Similar products can be found in these categories:
Trend Woodworking Tools
Trend Router Bit Sets
Trend Router Bit Starter Sets
Power Tools & Accessories
Router Bits
Router Bit Sets
Tools
Power Tool Accessories
Router Cutters
All Trend Routing & Woodworking Products