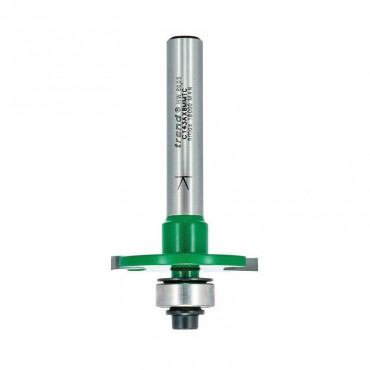 Product Description:
Trend Router Cutter One Piece Slotting 3.0mm Cut.
Product Reference: C143AX8MMTC
The Trend CraftPro two wing Tungsten Carbide Tipped slotting cutters are ideal for grooving and rebating operations. A 12.7mm diameter bearing is supplied with every cutter giving a 9.5mm groove depth. Depth of cut can be changed by purchasing alternative bearing sizes.
Easy to set-up and use.
Hex key is supplied.
N.B. The grooving section of this tool cannot be detached from the shank.

Dimensions:
D=31.8 mm
C=3 mm
B=12.7 mm
E=9.5 mm
Shank Diameter=8 mm
Similar products can be found in these categories:
Trend Woodworking Tools
Trend Router Bits CraftPro TCT
Trend Router Bits CraftPro TCT Slotting
Power Tools & Accessories
Router Bits
Slotting & Grooving Router Bits
All Trend Routing & Woodworking Products