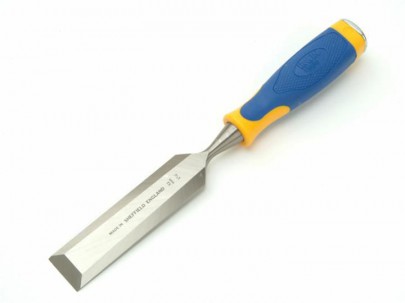 Product Description:
IRWIN® Marples® MS500 ProTouch All-Purpose Wood Chisel 32mm (1.1/4in).
Product Reference: MARS500114
The IRWIN Marples MS500 Series All-Purpose Chisels with ProTouch™ Handle. These chisels have a large metal striking cap to withstand hammer impacts, prolong the life of the handle and prevent mushrooming. ProTouch™ handles are designed to provide an extra comfort grip and also reduce vibrations and hand fatigue.
One-piece blade forging gives added strength and durability. Made from special tool steel which ensures a much sharper cutting edge for quicker and easier operation. A special hardening process gives the blade a longer lasting edge - less time spent re-sharpening. The blade is hardened to the lastin, giving more working chisel for your money.
Every chisel is honed and sharpened ready for use out of the packet - to save you time and effort.
1 x Marples MS500 Series All-Purpose Chisel with ProTouch™ Handle 32mm (1.1/4in)
Similar products can be found in these categories:
Tools
Wood Chisels
Marples Chisels
All Irwin Marples Wood Chisels Products