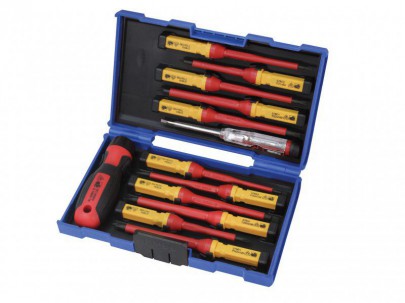 Product Description:
Faithfull Interchangeable VDE Screwdriver Set 13 Piece.
Product Reference: FAISDVDES13I
The Faithfull Interchangeable VDE Screwdriver Set offers a neat solution to the problem of both limited space and portability. Many electricians and service engineers are reluctant to take bulky toolboxes around with them as they are often working in restricted areas or are up and down ladders and need their tools readily to hand.
The soft grip handle features an automatic locking system; a twist to release function allows the blades to be changed quickly with the minimum of fuss.
Faithfull VDE screwdrivers are manufactured to BS EN 60900:2012 and are individually tested at 10,000V in a water bath before leaving the factory. This guarantees a safe working limit of up to 1,000V providing the maximum level of safety.
Supplied in a compact storage case with the following:
1 x Auto-Locking, Quick Release Soft Grip Handle.
4 x Slotted Blades: 0.5 x 3 x 100mm, 0.8 x 4 x 100mm, 1 x 5.5 x 100mm and 1.2 x 6.5 x 100mm.
2 x Phillips Blades: PH1 x 80mm and PH2 x 100mm.
2 x Pozidriv Blades: PZ1 x 80mm and PZ2 x 100mm.
3 x Star Blades: TX10 x 100mm, TX15 x 100mm and TX20 x 100mm.
1 x Single-Pole Voltage/Mains Tester: 3 x 140mm 100-250V (not VDE certified).
Specification:
Screwdriver Length (inc. handle): 190/210mm
Storage Case Dimensions: 210 x 130 x 44mm
Similar products can be found in these categories:
Tools
Screwdrivers & Hex Keys
Screwdriver Sets
All Faithfull Tools Products