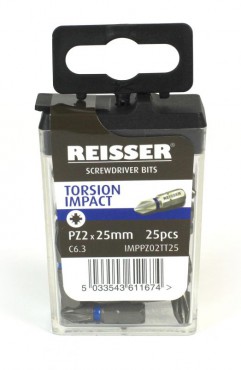 Product Description:
Reisser PZ2 25mm Pozi Torsion Impact Screwdriver Bits in Tic Tac box of 25.
Product Reference: IMPPZ02TT25
25 Reisser Torsion Impact Pozi PZ2 Screwdriver bits in a handy Tic Tac pack.
Reisser Torsion Impact screwdriver bits are designed to counter the tip breakage issues encountered when using fasteners in conjunction with cordless impact drivers. Strengthened tips and advanced heat treatment techniques produce a bit which is fit for purpose and gives a long service life.
Special PZ tip design - To help prevent breakagewhen used in impact drivers
Torsion zone - To increase flexibility and reduce snapping.
Super tough V5 tool steel - For wear resistance and durability.
E6.3 shank on 50mm and longer bits - Compatible with E6.3 quick change tool systems.
Similar products can be found in these categories:
Power Tools & Accessories
Driver Bits & Adaptors
Impact Bits & Adaptors
Tools
Screwdriver Bits & Adaptors
Screwdriver Bits
All Reisser Wood Screws Products