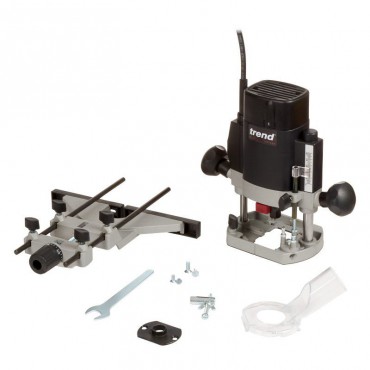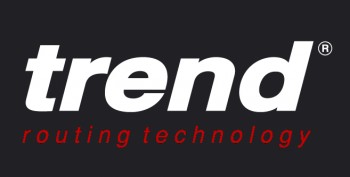 Product Description:
Trend Router Power Tool T5EB/MK2 1/4 1000W 240V.
Product Reference: T5EB/MK2
High-performance lightweight plunge router with unique plunge control, engineered to deliver reliable, fast, accurate cuts. Perfect for dovetailing, hinge cutting and timber profiling.
Handle Plunge Lock - featuring ergonomic handles for an intuitive and easy to control plunge lock method.
Micro-adjustable Side Fence - with adjustable facings and 0.1mm increments for accurate edge rebating, grooving and moulding.
Spindle lock - for quick and easy cutter changes.
ER Style Collet - utilises a double-locking safety design to prevent accidental cutter ejection and a multi-slit profile for concentric clamping to the cutter shank
3-Position Rotating Turret - to pre-set plunge depth limits for fast, repeatable batch and stepped cutting
Trend Base Configuration - is a standardised pattern of fixing holes that allow routers to be attached to a range of compatible tables, jigs and accessories.
Anti-scratch Base Plate - made from replaceable, smooth phenolic materials for a low-friction routing experience
Three year extended warranty with online registration (UK only).
For UK sale only.
Dimensions:
Duty Rating=Medium/Hpbbyist/Trade
Motor Power=1000 watt
AC Voltage=240 volt
Plg type=UK 3 pin
Supplied Collet Size=1/4"
Plunge Stroke (Max)=50 mm
No-load speed=9000-27000 rpm
Supplied Guide Bush=20 mm
Fence Rod Length=300 mmm
Fence Rod Centres=84 mm
Fence Rod diameter=8 mm
Cutter Diameter (Max)=40 mm
Dust Spout Internal Diameter=35 mm
Sound Pressure (Lpa)=72 dB(A)1
Acoustic pressure (Lwa)=92 dB(A)2
Hand/Arm vibration=<2.5 m/s2
Weight (Net)=6.4kg
Power Cable Length=2.9 m
Similar products can be found in these categories:
Power Tools & Accessories
Routers
Routers 230v / 240v
All Trend Routing & Woodworking Products