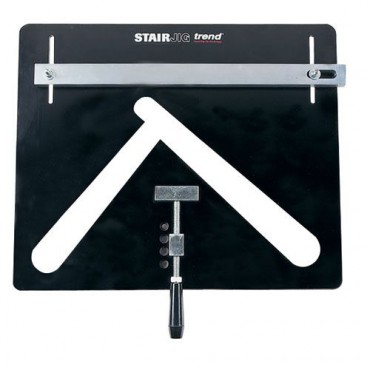 Product Description:
Trend Closed Riser Staircase Housing Jig from Cookson Hardware.
Product Reference: STAIR/A
The Trend Staircase Housing Jig is a well proven means of routing out stair housings quickly and accurately. Constructed from hard wearing solid laminate and includes a reversible fence for exact matching of stair strings and fully adjustable nosing piece. The Trend Closed Riser Staircase Housing Jig has adjustable nosing and uses dovetail cutters to give a neat joint.
Features:
Built-in heavy duty front clamp for quick clamping for each trench.
Adjustable to suit private and common stair angle pitch.
Standard TCT dovetail cutters are offered for various tread thicknesses.
Integral reversible and adjustable front clamp.
All heavy duty routers over 1600 watts can be used.
Sub-base is pre-drilled to suit Trend/DeWalt/Elu 1/2 inch routers, for other makes the sub-base will have to be redrilled.
Please state the make and model in the special requirements/comments box on the delivery details page when ordering.
Router not included.

Dimensions:
Tread Thickness = 22-32mm
Slider Diameter = 30mm
Nosing Adjustment = 16-19mm
Length = 858mm
Height = 485mm
Width = 9.5mm
Weight = 6.17kg
Comes with:
1 x Sub-base
1 x Adjustable reversible clamp bar
1 x Reversible clamp bar
1 x Nosepiece
1 x Line-up pin & bush
2 x Spanners
Similar products can be found in these categories:
Trend Woodworking Tools
Trend Router Jigs
Trend Stair Jigs
Power Tools & Accessories
Router Jigs & Tables
Staircase Jig
All Trend Routing & Woodworking Products
Accessories: