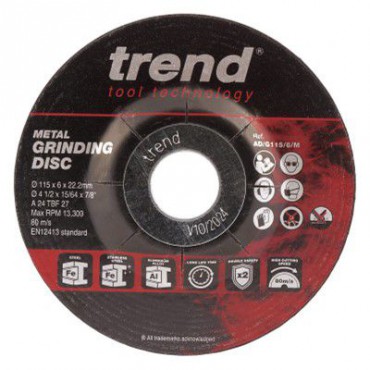 Product Description:
Trend Metal Grinding Discs 115mm x 6mm x 22.2mm Pack of 10.
Product Reference: AD/G115/6/M
Metal grinding discs. High-performance 6.0mm kerf grinding discs for Steel, Stainless Steel, Aluminium and alloys. 24 Grit Aluminium Oxide delivers fast and efficient removal of burrs, scale, rust and is perfect for cleaning welds. 6.0mm Kerf provides strength and stability to prevent deflection under load and ensures long life. Resin-Bonded Fibreglass Mesh Construction increases durability by up to 30% longer compared to conventional grinding discs. Semi-Open Coat Bond delivers a perfect balance between speed of cut, waste clearance, heat build-up, and quality of finish.
For use on Steel, Stainless Steel
ÔTÕ Hardness Rating for increased strength and durability in abrasive materials
115mm / 4ÚÓ Diameter is compatible with all standard 22.2mm bore angle grinders
Depressed Centre Profile (Type 27) keeps the flange nut below the surface of the disc to allow flatter grinding
Easy Read Icons help users to select the correct disc based on application, and use the disc safely
Metal Storage Tin to protect and transport unused discs
Dimensions:
Dia=115 mm
Kerf=6 mm
Bore=22.23 mm
Max rpm=13300
EN12413:2019 Certified
Similar products can be found in these categories:
Power Tools & Accessories
Blades for Power Tools
Angle Grinder Blades
All Trend Routing & Woodworking Products