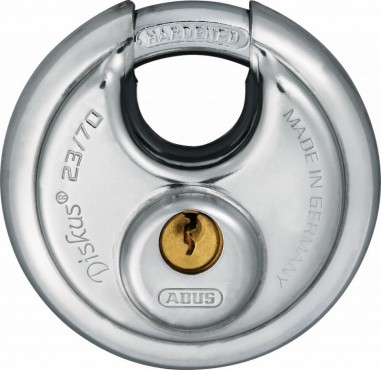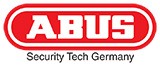 Product Description:
Abus Diskus Padlock 23 Series 70mm.
Product Reference: 44757
The Abus Diskus disc lock is a special form of the padlock with some distinct advantages. The disc shape effectively combats the most common ways of forcing it open. The design means that there is only a small opening in the shackle, which makes it very difficult to tamper with. As the ABUS disc lock is made mainly of stainless steel, it is used especially where security and protection against corrosion are required.
The Abus 23 series diskus padlock is an economy version of the distinctive ABUS 26/70 series Diskus padlock, incorporating the original Diskus design with a competitive price.
360-degree all-round protection
The Diskus® family is available in models with diameters between 50 and 80 mm. The original disc lock is only available from ABUS.
Operations and use:
To secure valuables / goods of greater value or at a high risk of theft
To secure doors, gates, cupboards, dellar doors etc.
Ideally used with Abus Diskus hasp No: 140: virtually impossible to attack shackle
Technology:
Original Diskus® design: 360° protection
Shackle manufactured from case hardened steel and protected in a stainless steel body
Diskus® deep-welding technology - maximum strength
Hardened steel shackle
Precision pin tumbler cylinder with anti-pick pins
Key retaining: key is needed for locking (lock retains key until locked)
Made in Germany
2 keys
Dimensions:
Overall diameter: 71 mm. Overall depth: 31 mm.
Shackle width: 19.5 mm I.D. Shackle height: 17 mm. Shackle Dia: 10 mm.
Similar products can be found in these categories:
Locks, Latches & Security
Padlocks
Diskus Padlocks
All Abus Padlocks and Security Products Products