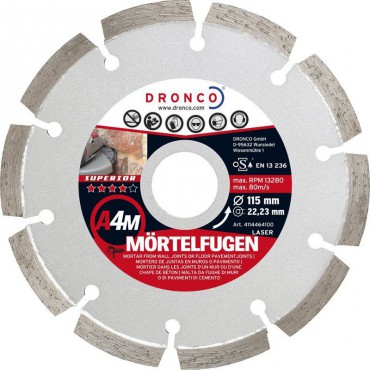 Product Description:
Dronco Diamond Mortar Raking Blade 115mm x 6.4mm x 22mm bore.
Product Reference: 4114464100
Special diamond blade for screed or plaster, aerated concrete, sandlime stone and bricks.
A powerful, laser welded, specially designed mortar raking disc for the easy removal of mortar residues from wall or screed joints.
Size: 115 x 6.4 x 22mm (4.1/2" x 1/4" x 7/8")
Number of diamond segments - 9
Height of diamond segment - 7mm
Similar products can be found in these categories:
Power Tools & Accessories
Blades for Power Tools
Diamond Blades
Tools
Power Tool Accessories
Diamond Cutting Blades
All Dronco Abrasives Products