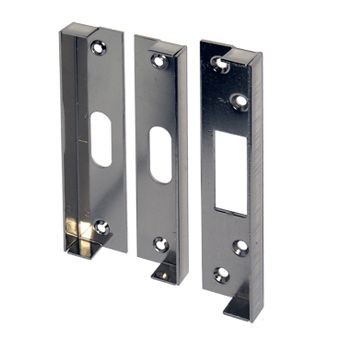 Product Description:
Securefast Rebate Kit to suit 5 Lever Mortice Dead Lock in Satin Zinc Finish.
Product Reference: SLR422
The 13mm Rebate Kit is for use with the Securefast BS & Non BS 5 Lever Mortice Dead Locks, as well as other UK manufactured locks. Although the lock cases will no longer satisfy the kite mark scheme, the locks will still offer enhanced security for french door and other rebated doors.
Finish: Satin Zinc (SZP)
Size: 13mm

Usage: External Rebated Doors for both Domestic and Commercial premises

Feature & Benefits:
Ideal for use with the majority of our UK manufactured Dead Lock cases, as it allows a quality lock to be used on rebated doors.
Can be used on timber French Window type doors.
Similar products can be found in these categories:
Locks, Latches & Security
3 Lever & 5 Lever Mortice Locks
5 Lever British Standard BS3621 2007 Mortice Deadlocks
All Securefast Locks and Security Products Products