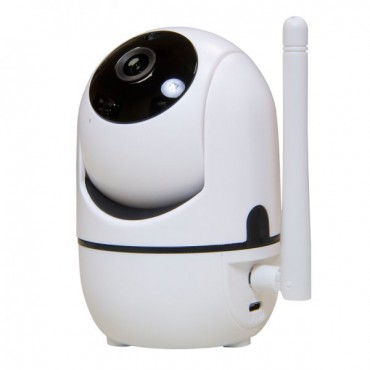 Product Description:
Securefast HD Auto Tracking WiFi Camera 2 WayAudio & IR Night Vision.
Product Reference: APT080-20
The APT080-20 is easy to install and set up. Supplied with a plug in power adapter and mini USB cable it just requires a WiFi connection to get you up and running in minutes.
Control the camera from your smart phone to scan the room using the ICsee App.
The camera provides the "real-Time" display with a 1080p video transmission a 25fps.
The APT080-20 intelligent auto tracking Wi-Fi camera, with clear two way audio and day and night monitoring. The camera has a motion detector, which can be used for home or office security, to check on warehouse movements, night time monitoring or non occupied rooms. For the home you can monitor rooms and even check on the children at night. The unit is incredibly easy to install and just requires a Wi-Fi connection. The unit is supplied with plug in power adapter and a Micro USB cable.
Features & Benefits -
Smart dual talking, colour night video with AP functions
Live real-time display and HD resolution recording
Motion auto tracking technology where the camera focuses on the target
Night vision
1080P@25FPS Real-time live video transmission, self-adaptable Ethernet
Echo elimination and noise reduction technology, perfect dual duplex audio effect
YCC365 Smart cloud technology, one step remote connection – plug and play
Pioneering technology; one key for Wi-Fi setting, one-step connecting internet
Smooth pan & tilt monitoring
350° pan and 110° tilt camera rotation
Charging via Micro USB cable (Supplied with a 3 Pin plug)
Similar products can be found in these categories:
Locks, Latches & Security
Wireless Security Systems
Securefast Wireless Security Systems
All Securefast Locks and Security Products Products