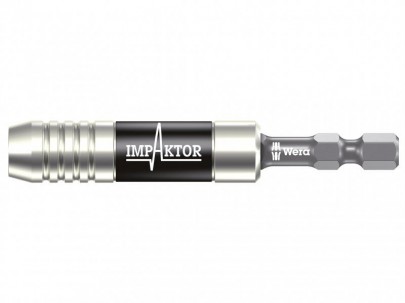 Product Description:
Wera 897/4 Impaktor Tri-Torsion Screwdriver Bit Holder
Product Reference: 057675
Wera Impaktor heavy-duty bit holder to cushion extreme impulse peaks. The 057675 Impaktor bit holder has a special torsion effect from its double-torsion spring, and is equipped with a ring magnet to easily hold longer and heavier screws. It is ideal for above the head working and particularly suitable for use with impact drivers. The magnet can be retracted to disable it.
This bit holder is suitable for 1/4" hexagon bits.
The Impaktor technology ensures an above average service life even under extreme conditions
Similar products can be found in these categories:
Tools
Screwdriver Bits & Adaptors
Screwdriver Bit Adaptors & Holders
Power Tools & Accessories
Driver Bits & Adaptors
Bit Holders & Adaptors
Power Tools & Accessories
Driver Bits & Adaptors
Impact Bits & Adaptors
All Wera Screwdriver Bits and Tools Products