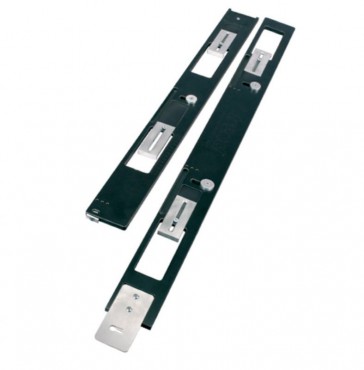 Product Description:
Trend Two Part Trade Hinge Jig B with Carry Case.
Product Reference: H/JIG/B
A two part trade hinge jig to cut hinge recesses in doors & linings. Hard wearing template in 12mm phenolic plastic. Two part, splits into two lengths with dovetail joint. One set up for door and frame. No need to adjust for repeated doors.
Four adjustable apertures.
For a 2 metre door hinges are 6 inch down and 9 inch up and the middle. Fourth hinge for fire doors (355mm /14 inches down from top of top hinge).
For doors 16mm to 51mm thick with separate (plant on) stops, or stops thinner than 11mm.
Swivel end plate for 3mm gap to head of door.
Use with a light duty plunge router with 1/4 inch collet.
Includes three edge guides, three bradawls and 16 mm guide bush.
Unibase may be needed.
T4EK router requires a ref. UNIBASE or special guide bush ref. GB/T4/160.

Dimensions:
Jig overall length=1815 mm

Hinge size
Length=50 mm (2") to 127 mm (5")
Width min.=9.5 mm (3/8")
Width max.=35 mm (1 3/8")

Door size possible
Height min=1955 mm (6' 5")
Height max.= 2100 mm*
Thickness min.= 16 mm (5/8")
Thickness max.=51 mm (2")
* Please note for doors over 2000mm the bottom hinge will be higher than 9" up.
Similar products can be found in these categories:
Trend Woodworking Tools
Trend Router Jigs
Trend Hinge Jigs
Power Tools & Accessories
Router Jigs & Tables
Hinge Jigs
All Trend Routing & Woodworking Products
Accessories: