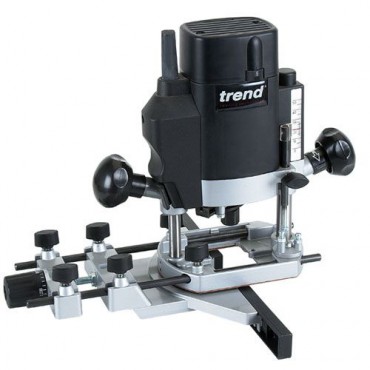 Product Description:
Trend T5EB Router Power Tool 1/4 1000W 240V
Compact and powerful plunge router suitable for light and medium duty applications.

Basic models include:
1/4" Collet
35mm Clip-in Dust Spout
20mm Guide Bush
Side-fence with Micro Adjuster
Beam Trammel Attachment
Features:
Electronic full wave variable control of spindle speed under load for a fine finish on all types of material.
Soft-start feature eliminates sudden movement of machine on start up.
Spindle lock & hex collet nut allows easy cutter changes.
Precision machined one piece multi-slit collet with combined nut.
Compact design & low weight make it easy to use especially for intricate work.
Adjustable twin rod side-fence for guiding along a straight edge.
New features include: increased power, soft grip handles, low profile dust spout and ergonomic spindle lock.
Three year extended warranty with online registration (UK and Eire only).
Dimensions:
Rating=Professional/Trade
Plunge stroke=0-50 mm
Power input=1000 watt
Power ampage=4.6 amp
Standard model collet dia.=1/4"
Cutter dia. max.=40 mm
No load speeds=9-27000 rpm
Dust spout size=35 mm
Guide bush dia.=20 mm
Rod diameter=8 mm
Rod centres=84 mm
Weight=3.3 kg
Voltages=240v
Sound pressure Lpa=81.0 dB(A)1
Acoustic pressure Lwa=94.01 dB(A)2
Hand arm vibration=<2.5 m/s2
Similar products can be found in these categories:
Power Tools & Accessories
Routers
Routers 230v / 240v
Trend Woodworking Tools
Trend Power Tools and Safety
Trend Routers
All Trend Routing & Woodworking Products