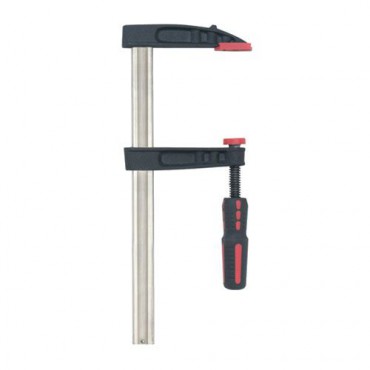 Product Description:
Trend Heavy Duty Gripper Clamp F Type 500mm x 100mm.
Product Reference: FC/500

Trend heavy duty F-Style quick action gripper clamps for a variety of clamping applications.
Zinc plated steel bar with cast steel head and jaw.
Soft grip handle for better grip and more clamping force.
Removable pad to provide grip on work surfaces and reduce workpiece marking.
Ball joint swivel clamping jaw.
Groove in the serrated bar to allow easier sliding of moving jaw.
Dimensions:
Max Throat Depth (D) = 100 mm
Max Opening (O) = 500 mm
Steel Section (S) = 27 mm x 7.5 mm
How To Use The Trend Heavy Duty Gripper Clamp.
Similar products can be found in these categories:
Trend Woodworking Tools
Trend Clamping
Trend F Clamps
Tools
Clamps and Cramps
Clamps
All Trend Routing & Woodworking Products