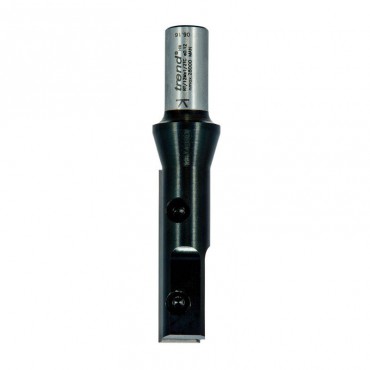 Product Description:
Trend Rota-Tip TCT Straight Router Cutter from Cookson Hardware.
Product Reference: RT/12MX1/2TC
Trend Rota-Tip Solid Carbide replaceable blade router cutters.
Features:
Tool body remains in place when changing blades, thus reducing down-time.
Straight cutters have blades with two or four cutting edges, allowing them to be rotated and locked in identical positions.
1/2" shank tools are ideal for use in production applications.
Clear economical advantage over conventional brazed tip tooling.
The single blade can be rotated 180 degrees to give double the life of a conventional tool.
Refs. RT/11(M) & RT/13 are ideally suited for use with Trend Combi worktop jigs.
Refs RT/11M & RT/12M have a shorter shank, designed for use with Makita 3600B & 3612BR, Ryobi and Hitachi routers.
Refs. RT/15, 16 & 17 are suitable for fixed head machines only.
Suitable for plunge cutting.
Size:
Diameter - 16.0mm
Cut Length - 49.5mm
Overall Length - 90.0mm
Shank Diameter - 1/2"
Similar products can be found in these categories:
Trend Woodworking Tools
Trend Router Bits Rota-Tip
Trend Router Bits Rota-Tip Single Blade
Power Tools & Accessories
Router Bits
Rota-Tip Replaceable Tip Router Bits
All Trend Routing & Woodworking Products
Accessories: