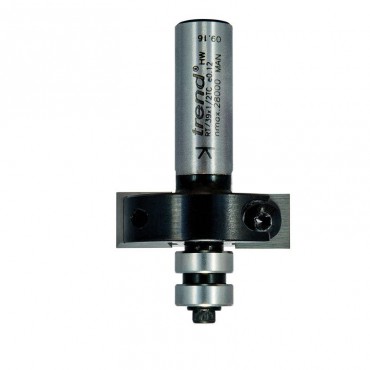 Product Description:
Trend Rota-Tip TCT Double Bearing Guided Rebater Router Cutter from Cookson Hardware.
Product Reference: RT/39X1/2TC
Trend Rota-Tip Solid Carbide replaceable blade, double bearing guided, rebater router cutter. Fitted with two blades that can be rotated giving three new edges.
Features:
Tool body remains in place when changing blades, thus reducing down-time.

Clear economical advantage over conventional brazed tip tooling.

Two blades.

Fitted with a double bearing.

Bearing ring accessories can be fitted to give different rebate sizes. Rings are secured between the two bearings.
Size:
Diameter - 38.1mm
Cut Length - 12.0mm
Bearing - 12.7mm
Shank Diameter - 1/2"
Similar products can be found in these categories:
Trend Woodworking Tools
Trend Router Bits Rota-Tip
Trend Router Bits Rota-Tip Rebater
Power Tools & Accessories
Router Bits
Rota-Tip Replaceable Tip Router Bits
All Trend Routing & Woodworking Products
Accessories: