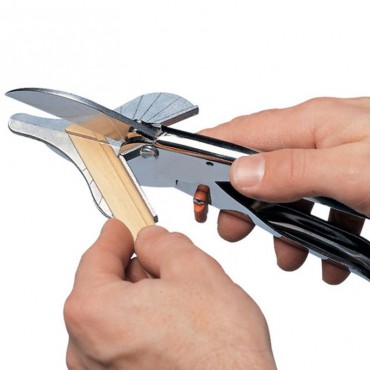 Product Description:
Trend Hand Mitre Shear from Cookson Hardware.
Product Reference: HM/SHEAR
The Trend hand mitre shear with 45 degree angled wings for perfect mitre cuts of seals, mouldings, beadings and weatherseals.
Features:
Can be used to cut mouldings at 90 degrees up to 10mm thick.

For battens at 45 degrees the maximum thickness is 15mm and 35mm wide.

Left and right hand use.

With stop faces at 45 degree. Suited to mitre cuts in tiling sealing strips, wooden battens and decorative trim strips.

Engraved angle lines on both left and right alloy wings at 45 deg, 60 deg, 75 deg, 90 deg, 75 deg, 60 degnad 45 deg.

For use with wood, PVC, synthetic and leather.

Ideal for use with delicate dolls house mouldings.

Blade can be changed by using an 8mm A/F spanner.

Jaw locking lever.

Not to be sold to persons underage.
Dimensions:
Max. thickness at 90 deg=10 mm
Max. thickness at 45 deg=15 mm
Max. width at 45 deg=35 mm
Max. length of cut at 45 deg=50 mm
OL=225 mm
D=75 mm
D2=80 mm
Similar products can be found in these categories:
Trend Woodworking Tools
Trend Hand Tools
Trend Hand Mitre Shears
All Trend Routing & Woodworking Products