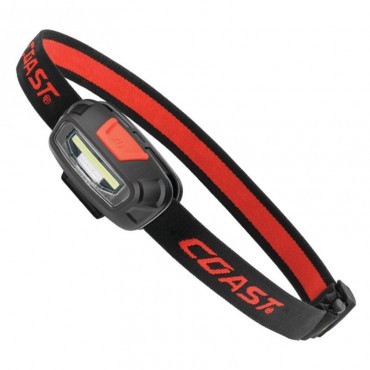 Product Description:
Coast Rechargeable LED Head-Torch.
Product Reference: FL13R
Compact & lightweight at only 65 grams (including batteries) and fully Rechargeable with USB charger lead provided, the Coast FL13R head-torch produces a super-bright light output of 270 lumens with an additional lower-light option of 85 lumens when less light is required such as for reading or wearing in crowded areas such as campsites etc.

Additional light modes of 'Red' for anti-glare and preserving night vision (avoiding 'stars before your eyes'), and Flashing Red used as an aid to personal safety and as an emergency signal, are also included.
Featuring a comfortable single head-band favoured by most outdoor enthusiasts along with an adjustable pivot for desired beam angle and additional clips for optional attachment to helmets.
Battery Run-Times range from 5 hours when used on the highest light output up to 10 hours when used on lower white mode, or on either red or red-flashing modes.

The Coast FL13R head-torch also comes with a comprehensive 5 Year Coast warranty!
Low-Cost Rechargeable LED Torch
Special COB LED light gives broad general beam
High (270 Lumens) & Low (85 Lumens) light modes
Added red (low-glare) & red flashing (safety) modes
Battery Run-Time up to 10 hours (maximum)
USB charger & clips for optional attachment to safety helmets
Exceptional value for 270 lumens rechargeable head torch!
5 Year Warranty
Similar products can be found in these categories:
Tools
Torches
Head Torches
All Coast Products