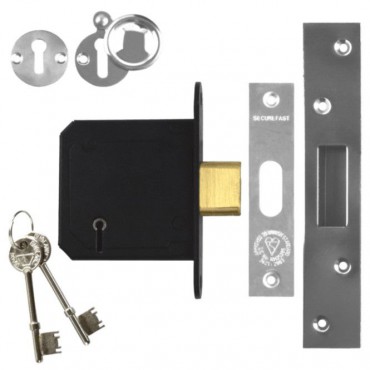 Product Description:
Securefast 64mm 5 Lever Deadlock to BS3621 in Satin Stainless Finish.
Product Reference: SKDS2
A UK Manufactured Kite Marked high quality and high performance five lever mortice dead lock
If you are fitting this lock to a pair of rebated doors an optional rebate set will be required which can be purchased separately.
If keyed alike locks are required this is available from our key department, however only 6 locks can be keyed alike to one key in compliance with BS3621:2007. This lock cannot be master keyed.
Finish: Satin Stainless

Size: 64mm
Certification: BS3621

Usage: External Doors for both Domestic and Commercial premises

Feature & Benefits:
20mm Deadbolt throw, with rotating steel pins to protect from drilling and sawing attack and for high security applications
Deadbolt has radii profile which reduces the risk of a drilling attack and reduces the friction between the bolt and the striker, should the door drop.
Hardened Steel Anti-drill Plate on cap and case.
Five lever mechanism is protected from picking by the internal shroud.
Stainless Steel or Brass Outer Forend supplied with matching Striker Box
All locks are supplied with 2 keys as standard in Polished Chrome.
Locks can be keyed alike, but cannot be master keyed.
Similar products can be found in these categories:
Locks, Latches & Security
3 Lever & 5 Lever Mortice Locks
5 Lever British Standard BS3621 2007 Mortice Deadlocks
All Securefast Locks and Security Products Products
Accessories: